Inaugurated the Rajiv Gandhi Seva Kendra in Andagi, Sirsi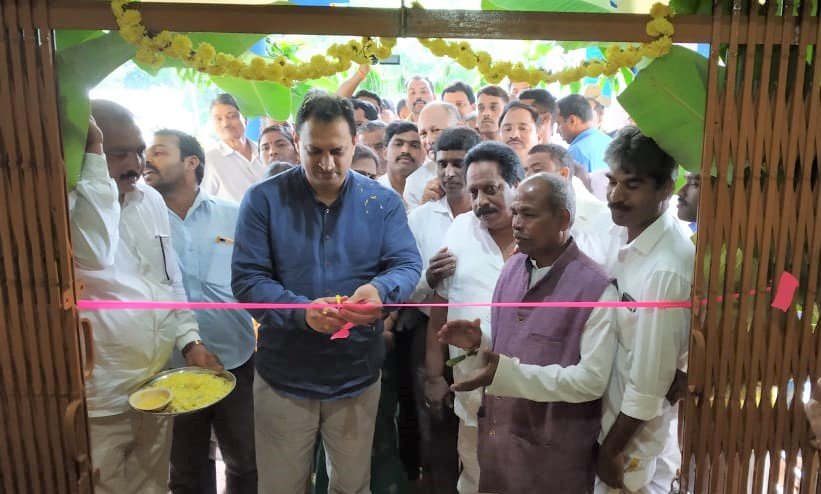 ಉತ್ತರ ಕನ್ನಡ ಕ್ಷೇತ್ರದ ಸಂಸದರಾದ ಶ್ರೀ ಅನಂತಕುಮಾರ ಹೆಗಡೆಯವರು, ಇಂದು ಶಿರಸಿ ತಾಲೂಕಿನ ಅಂಡಗಿ ಗ್ರಾಮದಲ್ಲಿ ನೂತನವಾಗಿ ನಿರ್ಮಾಣವಾದ "ರಾಜೀವ ಗಾಂಧಿ ಸೇವಾ ಕೇಂದ್ರ " ಕಟ್ಟಡವನ್ನು ಉದ್ಘಾಟಿಸಿದರು.
ಈ ಸಂದರ್ಭದಲ್ಲಿ ಶ್ರೀ ವಿ ಎಸ್ ಪಾಟೀಲ್, ಅಧ್ಯಕ್ಷರು - ವಾ.ಕಾ.ರ.ಸ ನಿಗಮ ಹುಬ್ಬಳಿ, ಶ್ರೀಮತಿ ಶ್ರೀಲತಾ ಶಿವಾಜಿ ಕಳೇರಮನೆ, ತಾಲೂಕ ಪಂಚಾಯತ್ ಅಧ್ಯಕ್ಷರು - ಶಿರಸಿ, ಶ್ರೀ ಬಸವರಾಜ್ ದೊಡ್ಡಮನಿ, ಜಿಲ್ಲಾ ಪಂಚಾಯತ್ ಸದ್ಯಸರು - ಉತ್ತರಕನ್ನಡ ಹಾಗೂ ಮುಂತಾದವರು ಪಾಲ್ಗೊಂಡಿದ್ದರು.
#ಅನಂತಕುಮಾರಹೆಗಡೆ_ಕಾರ್ಯಾಲಯ
Sri Anantkumar Hegde, Member of Parliament, Uttara Kannada constituency inaugurated the "Rajiv Gandhi Seva Kendra" in Andagi, Sirsi, today.
Sri V S Patil, President - NWKRTC Hubbali, Smt Srilata Shivaji Kaleramane, Taluka Panchayat President - Sirsi, Sri Basavaraj Doḍḍamani, Zilla Panchayat Member - Uttara Kannada and others were present on the occasion.
#OfficeOfAnantkumarHegde