THE GREAT KANARA TRAIL
The rural tourism development is one of the Kadamba's dream project, which has initiated in the name of "The Great Kanara Trail"."The Great Kanara Trail" an unique tourism concept is designed, similar to the "APPALACHIN" trek-route in between Canada and USA. It has been introduced by Kadamba Foundation. In 2009.Because of lack of resources, the programme was launched by Kadamba with the assistance of Karnataka State Forest Department in October 8th 2010.

The Western Ghats one of the global bio-diversity hotspots of the World offers one of the best hiking experiences. The Great Kanara Trial passes through the heart of the Western Ghats offering glimpses of the glorious forests of Uttara Kannada district and also offers its treasure trove of bio-diversity for those inclined to look for it. It also enhances ones' understanding of the nature and thereby helps in discovering yourself.

The GKT stretches from the famed Jog Falls from its southern tip and culminates at the northern enchanting point at Castle Rock adjoining Goa. The estimated length of the GKT is around 250 Kms or 155 miles.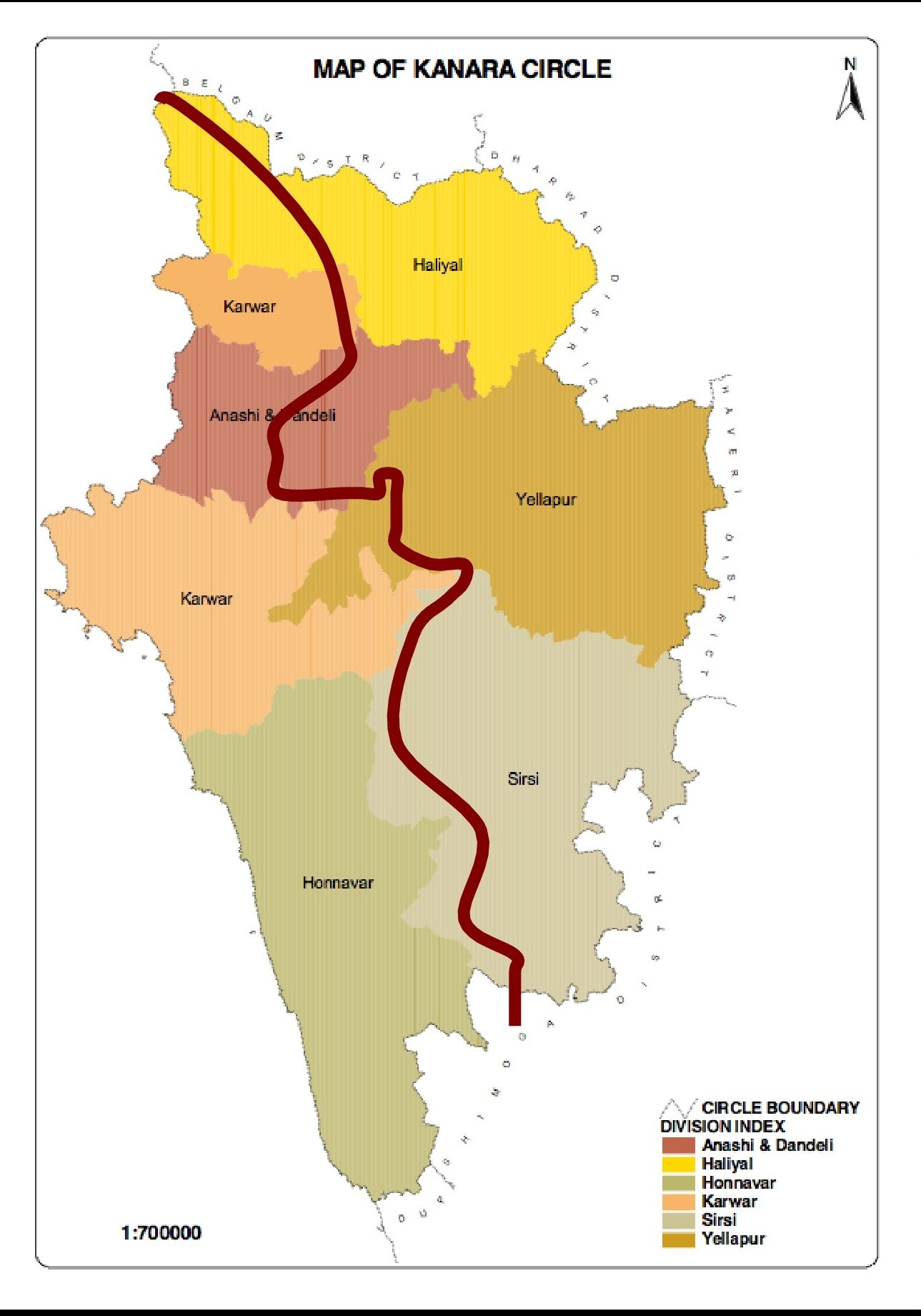 Layout of the trial
The trail is intended to use existing cart roads and footpaths mainly in wooded areas along the ridgeline of the Western Ghats and aligned in such a manner to touch its various well known eco-tourism spots. Keeping in view of the fragile eco-system in which the trail is located no new roads or footpaths are proposed.
How to do the Trail
In order to facilitate the convenient hiking of the trail it is proposed to divide the trail in various sections each section which can be hiked in 2-4 days. Further night shelters/camps are provided at every 15 Kms interval which an average healthy person can hike in a day. The trail can be through hiked (start to end continuous) in 17 – 20 days for a normal person. Certain sections of the trial can be hiked for a few days and after a break of few days again the hiked can be continued for the next section. Sections of the GKT can be hiked in the weather preferred by the individual/s.
DEVELOPMENT OF UTTARA KANNADA COSTAL REGION UNDER CENTRAL "SWADESH DARSHAN" PROGRAM
Sl No
Place
Details of Work

Approximate Amt

(Amt in Lakhs)

1
Ravindranath Tagore Beach
Beach Cleaning Machine
92.35
Water Sporting Equipment
181.46
C.C cameras
62.75
Surfing Equipment
165.58
Pedsetrain Sitting Bench
5.82
Cubical Shower Block
0.62
2
kudle beach
Beach Cleaning Machine
92.35
Water Sporting Equipment
181.46
Surfing Equipment
165.58
Cubical Shower Block
0.62
3
Om Beach
C.C Camera (15)
62.75
Floating Restaurant on Cruise
600.00
Floating Jatti
160.00
Cubical Shower Block
0.62
4
Mavinkurve Beach
Cubical Shower Block
0.62
5
Murudeshwar Beach
Beach Cleaning Machine
92.35
Water Sporting Equipment
181.46
C.C Cameras
62.75
Surfing Equipment
165.58
Scuba Diving Center
186.78
Pedsetrain Sitting Beach
4.16
Life Guard Tower
4.86
Solid Waste Management
4.01
Cubical Shower Block
0.62
Tourist Facilitation Center
343.28
GIS Maping Coastline of Karnataka
302.42
DEVELOPMENT OF UTTARA KANNADA COSTAL REGION UNDER CENTRAL "MEGA COASTAL CIRCLE" PROGRAM
Sl No
Place
Details of Work

Approximate Amt

(Amt in Lakhs)

1
Apsarakonda Beach
Watch Tower
294.25
Life Guard Tower
Solid Waste Management
Pedsetrain Sitting
High mask lights
Risk Boats
paragola
2
Kasarkod Beach
Watch Tower
210.425
Life Guard Tower
Pedsetrain Sitting
High mask lights
Risk Boats
3
Mavinkurve Beach
Watch Tower
101.13
Pedsetrain Sitting
High mask lights
Risk Boats
Parking
Paragola
4
Om Beach
Watch Tower
290.78
Life Guard Tower
Solid Waste Management
Pedsetrain Sitting
High mask lights
Road
5
kudle beach
Watch Tower
181.90
Life Guard Tower
Solid Waste Management
Pedsetrain Sitting
High mask lights
Road
Parking
6
Gokarna beach
Watch Tower
191.74
Road
Parking
Life Guard Tower
Solid Waste Management
Pedsetrain Sitting
High mask lights
7
Kumta beach
Watch Tower
514.90
Solid Waste Management
Pedsetrain Sitting
Road
Parking
Life Guard Tower
High mask lights
8
Belekeri beach
Watch Tower
490.53
Road
Parking
Life Guard Tower
Solid Waste Management
Pedsetrain Sitting
High mask lights
9
Ravindranath Tagore Beach
Watch Tower
110.00
Solid Waste Management
Pedsetrain Sitting
Road
Parking
10
Majali beach
Watch Tower
163.21
Road
Parking
Solid Waste Management
Pedsetrain Sitting
11
Tilmati beach
High mask lights
83.15
Road
Parking
Solid Waste Management
Pedsetrain Sitting
Total
2924.05