"You don't need a rich father or father-in-law to start a business. Government is with you," Suresh Prabhu at NEA 2018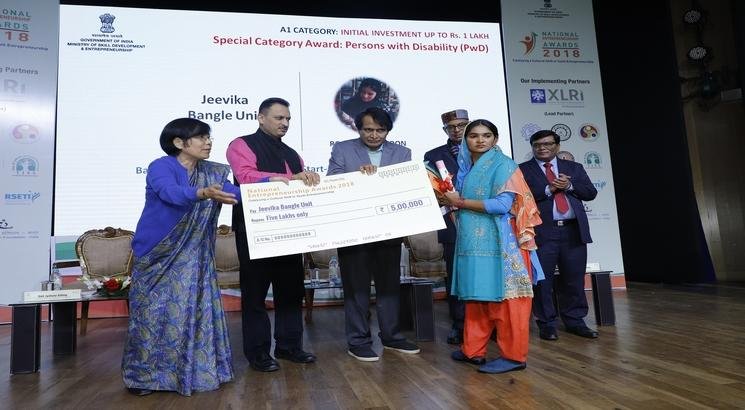 NEW DELHI, JANUARY 7: Reaching every nook and corner of the country, the Ministry of Skill Development and Entrepreneurship (MSDE) celebrated the achievements of young grassroots entrepreneurs at its third edition of National Entrepreneurship Awards (NEA) 2018.
The awards aimed at honouring outstanding contributions in entrepreneurship development and encouraging skilled youth to become job creators than just job seekers. On the occasion, 30 outstanding young entrepreneurs and three ecosystem builders were awarded a trophy, certificate and cash prize up to Rs 10 lakhs, in 43 categories. Encouraging budding entrepreneurs Suresh Prabhu, Minister of Commerce & Industry and Civil Aviation and Chief Guest of the event, said, "If you embrace the new entrepreneurial changes, you do not need a rich father or father-in-law to start a business. Government is with you. All you need is an idea which can be turned into a viable business. With the onset of the internet revolution, even location isn't an impediment anymore. Somebody with entrepreneurial abilities doesn't need huge capital, but the vision to fight for the dream to keep it going."
The awards were given in three categories, namely A1 Category for businesses whose initial investment was up to 1 lakh, A 2 category for businesses with initial investment between 1 and 10 lakhs and A 3 category for those with initial investment above 10 lakhs.
"This year our focus was to reach the grassroots. To that avail, an inclusive approach was adopted by introducing new sub-categories for grassroots entrepreneurs with a special focus on women, persons with disabilities, SC/ST and entrepreneurs coming from geographically difficult areas. Furthermore, a third category was introduced this year to recognize Small Scale businesses who started with an initial investment of one lakh or less," informed Dr K.P. Krishnan, Secretary, MSDE. He added that the entries this year were taken through nominations only which were facilitated and filtered with the help of a core committee of 12 reputed institutions like IIT Bombay, IIT Delhi, NABARD Mumbai, TISS Mumbai, Xavier School of Management Jamshedpur etc.
Among the winners was Roshan Kahtoon, 23, from Bihar, who, despite her physical disability, has beaten all odds and set up a small bangle manufacturing unit. She has become an inspiration to many women in her village and has provided them with employment.
One of the winners of A3 category was Kajri Devi and her team from Jharkhand, who while talking to Careers360 said, "I am very happy to be a part of this event and get the esteemed recognition. We are planning to use the award money to further fuel our business. We started with a few numbers initially and presently our cooperative is run by a strong group of 810 women. We aim to extend this number to 2,000 in the coming year."
In the ecosystem builder category, the Centre for innovation incubation and entrepreneurship incubation centre from Gujarat, the rural producer promoters group, Collectives for integrated livelihood initiatives from Jharkhand; and Dr Suryanil Ghosh, the mentor; got the award.
Talking about the award recipients this year, Minister of State, MSDE, Anantkumar Hegde, said, "Our country's strength is its human resource. The Government is committed to supporting everyone - across small, medium or large categories of entrepreneurs, and create market linkages for all. I would urge our youth to work hard, take risks and write their own destiny."
Milind Kamble, Founder & Chairman of The Dalit Indian Chamber of Commerce and Industry, said, "The current incumbent government is making commendable efforts to create a strong support system for entrepreneurs across categories including those who are marginalized. I would give AAA rating to the Government for being Accessible, Accommodating and being Action oriented."
The National Entrepreneurship Awards (NEA) was instituted by MSDE in 2016 to encourage a culture of entrepreneurship. Each of the enterprise/individual winners received a trophy, certificate and a cash prize of Rs 5 lakh, while each of the winning organizations/institutes received a trophy, certificate and a cash prize of Rs 10 lakh.