BJP MP Anantkumar Hegde complains to Prime Minister & Home Minister to probe against Twitter's anti-India policies and money-making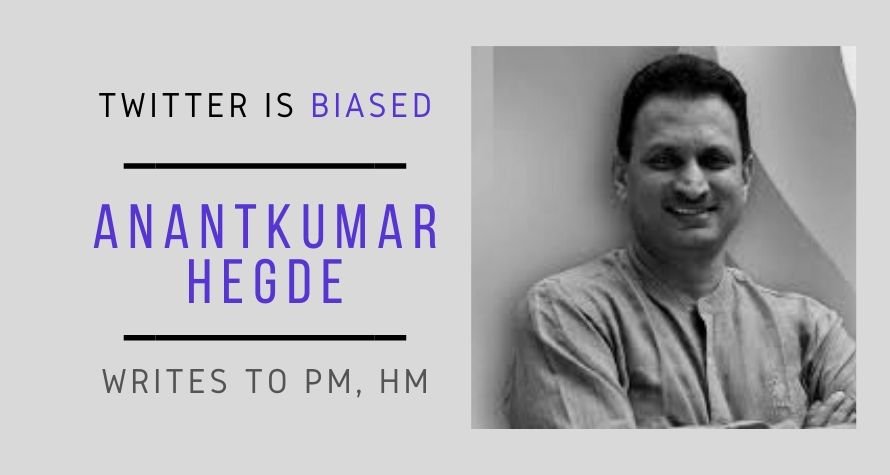 Bharatiya Janata Party (BJP) Member of Parliament (MP) Anantkumar Hegde filed a complaint seeking probe against Twitter's anti-India stance, promoting policies and propagandas to tarnish India and Prime Minister Narendra Modi and Home Minister Amit Shah. In a detailed complaint, the BJP MP from Uttara Kannada said that Twitter demanded him to delete his tweet on Tablighi Jamaat and now locked his account (@AnantkumarH) for not deleting the tweet. BJP's firebrand MP Hegde pointed out various instances of Twitter promoting anti-national propaganda of Khalistanis and in his detailed letter, he demanded that the Information Technology Department and other agencies must book the India-hating people employed at / and associated with Twitter India and Twitter headquarters.

Anantkumar Hegde in his detailed two press releases with many screenshots accused Twitter of accepting money and engage in promotional tweets by Canada-settled Khalistani terror outfits. "The logic and algorithms that Twitter uses should be shared and vetted by Indian Government/ Law Enforcement agencies for screening anti-India tweets," said Hegde in the complaint to Prime Minister and Home Minister.

"If these tweets are promoted, then Twitter should declare money/ business generated from any suspected anti-India commercial operation. As newspapers, televisions are governed under law of the land same should be applied here as this also is a sponsored activity," said Hegde.


Hegde reiterated that he will never agree to Twitter's demand in deleting his tweets against Tablighi Jamat and Khalistanis. He also demanded that the Government of India must look into the activities of Facebook and revenue earned from Indian operations.
"I urge the Government of India to investigate the motives behind such acts by Twitter Inc. It must also be investigated if money is exchanged or personal like or dislike of decision-maker of Twitter leads to such actions to promote Anti-India, Anti-BJP, Anti-Modi, Anti-Indian establishments Tweets," demanded the BJP MP in his petition to the Prime Minister and Home Minister.

https://www.pgurus.com/bjp-mp-anantkumar-hegde-complains-to-prime-minister-home-minister-to-probe-against-twitters-anti-india-policies-and-money-making/